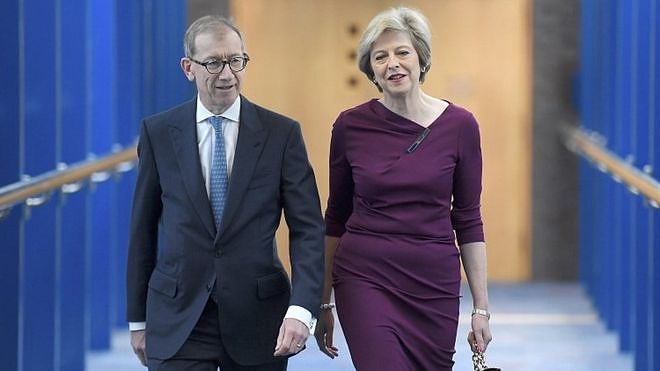 Theresa May has promised  that "a change is going to come" as she set out her plan for the Conservatives to occupy the centre ground of British politics and create "a country that works for everyone".
In her keynote address to the Tory Party conference in Birmingham, the Prime Minister spoke of her determination to make Britain into a "Great Meritocracy" based on the values of "fairness and opportunity" and she insisted that it was right for Government to use its powers for the public good by intervening to rein in "dysfunctional" markets and support key industries.
Conservatives should value not only wealth creation and success, but also a "spirit of citizenship" and a "sense of public service" that respects "the bonds and obligations that make society work", she said.
She hailed the example of triathlete Alistair Brownlee, who helped his exhausted brother Jonny across the finishing line, as a demonstration of the "essential truth, that we succeed or fail together, we achieve together or fall short together".
"That's why the central tenet of my belief is that there is more to life than individualism and self-interest," said Mrs May. "We form families, communities, towns, cities, counties and nations. We have a responsibility to one another. And I firmly believe that government has a responsibility too."
Mrs May said that the vote for Brexit in this year's referendum reflected not just a desire to quit the EU but a "deep, profound and … justified" sense that the world works for a privileged few but not for ordinary working-class people.
Too many people in positions of power see themselves as part of an "international elite" and have little in common with those they employ or live among, she said.
In a message to well-paid bosses who fail to look after their staff or allow pension funds to go bust, multinationals that dodge tax and tech giants who refuse to co-operate with the authorities in the fight against terrorism, she said: "I'm putting you on warning. This can't go on any more."
She hinted at action against energy companies which put customers on overpriced tariffs and firms which exploit complex pricing structures to inhibit consumer choice. "Where markets are dysfunctional, we should be prepared to intervene," she said.
Mrs May said the Brexit vote amounted to "a turning point for our country … a once-in-a-generation chance to change the direction of our nation for good".
The vote laid bare the divisions between the rich who had benefited from low interest rates and rising house prices in the wake of the 2008 financial crash and the ordinary families who had suffered from job insecurity and depressed pay.
"The roots of the revolution run deep," she said. "Because it wasn't the wealthy who made the biggest sacrifices after the financial crash, but ordinary, working class families."
And she added: "While monetary policy – with super-low interest rates and quantitative easing – provided the necessary emergency medicine after the financial crash, we have to acknowledge there have been some bad side-effects. People with assets have got richer. People without them have suffered. People with mortgages have found their debts cheaper. People with savings have found themselves poorer."